Sun Louvre is present to give more value to a space and occupancy because it can be applied to a variety of needs such as: Pregola, cafe, voids, canopy, pool, barn, work area, dry garden, gazebo, garage, hallway, vertical grille, and other architectural applications.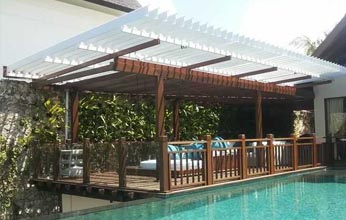 Address
Komp. Plaza Segi 8 Kav. A - 857
Raya Darmo Permai III
Surabaya - East Jawa | Indonesia

Telephone: +6231 731 3333

Email: marketing.sby@sunlouvre.com

Fax: +63 918 4084 694
Vision

"Be the first choice of consumers for products building materials."

Sunlouvre Surabaya
Mission

"In reaching our vision, we always have an innovation for our products, marketing and services, and also improve the dignity of life for employees, the community around the company and the scope of the business community and society in general."

Sunlouvre Surabaya
---
A comfortable layout is a major need to perform our daily activities well Sun Louvre® is a roof construction system designed to provide comfort for it is flexible, you can simply open or close anytime, and suitable for every function and use of a room.
Both manual and remote operating system offer you easy access to rotate the blades to 90 degrees, allow you to protect and control air flow, sunray intensity or rain pouring into a room.
A simple and low maintenance roof construction with high quality powder coated aluminium, Sun Louvre® stands strong, beautifully and elegantly adds a striking architectural element to your living space and enhances a function of a room.
Sun Louvre® offers you added value into your layout and living space for it is fit for any purposes such as pergola, cafe, void, canopy, swimming pool, storage, working space, dry garden, corridor, garage, gazebo, vertical blind and many more architectural projects.
Our Team
---
Installation Team Installer
Team field or the team that did the work for the installation of roof Open Close are professionals and experience.
Team Quality Control
Control of the quality of materials and work performed by the contractor based on the provisions and requirements determined.
Team Survey Project
Before performing the installation workmanship, team of surveyors will conduct a survey and measurement projects to be undertaken.
Team Marketing
Team Marketing is the spearhead of our in running the business processes that we do.
Excited to Work With Us? We Are Ready to Start