Sun Louvre is present to give more value to a space and occupancy because it can be applied to a variety of needs such as: Pregola, cafe, voids, canopy, pool, barn, work area, dry garden, gazebo, garage, hallway, vertical grille, and other architectural applications.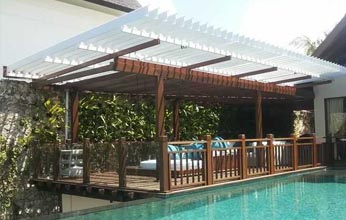 Address
Komp. Plaza Segi 8 Kav. A - 857
Raya Darmo Permai III
Surabaya - East Jawa | Indonesia

Telephone: +6231 731 3333

Email: marketing.sby@sunlouvre.com

Fax: +63 918 4084 694
FAQ
---
SunLouvre is a construction of the roof that can be opened and closed adapts to your needs and to optimize your space area. SunLouvre attractive because of its simplicity, quality and flexibility as well as easy to use and maintenance free.
Fully extruded quality alumunium. (Alloy 6063 T5).
Relatively SunLouvre allows it to be applied in all sizes and heights, because of the construction of flexible SunLouvre can adjust the location of the project.
No need to have special treatment, just by washing the parts of the construction in order to keep a clean look. The more often you open and close it will be even better.
The construction of the SunLouvre must be installed by the installer recommended by SunLouvre.
For medium size construction, installation of SunLouvre can be done by two SunLouvre installer for 2-3 days.
Of course it can, as long as the pillars of usability does really not needed in its construction.
SunLouvre can also be applied vertically and half vertically, adjust the design and requirement.
Could, in the selection.
You can install the motor as a driving force to open and close SunLouvre.
SunLouvre pillar will be plugged on the bracket that is already planted on construction of cement or concrete, so it will have the power in restraining the load of SunLouvre.
Excited to Work With Us? We Are Ready to Start